We've said it before and we'll say it again, the entrance is undoubtedly one of the most important features of a dwelling. However, when you are working with a small home, it can be tricky knowing how to create a well-designed façade. Essentially you will want to ensure your entrance conveys warmth, style and hospitality. It should entice the guest or visitor, while offer an alluring aesthetic. To do this, the right materials, colours and style should be decided upon, as this will form your home's initial curbside impression.
Need a little inspiration? We've got the goods. Read on below and check out our 13 favourite small home entries, which are sure to provide a few ideas, tips and tricks.
1. This large timber door with a well-designed modern garden
This small house makes a statement with its impressive entrance, which utilises a combination of timber, glass, concrete and foliage.
Standing back we see the small yet eye-catching façade! The entrance makes this seem even more impressive
2. Louvres and contrasting colours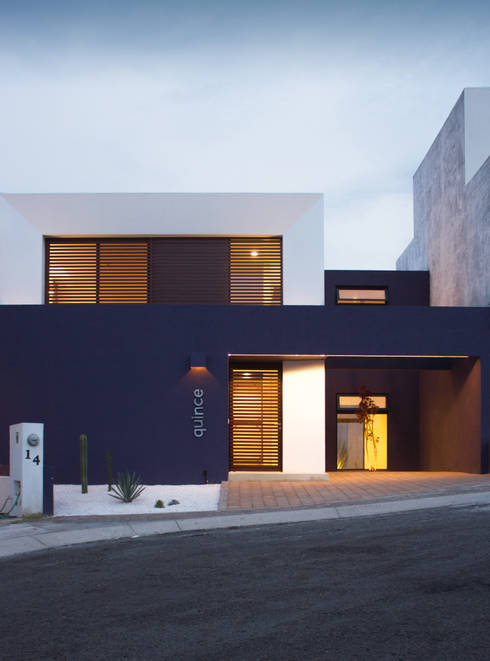 FACHADA PRINCIPAL
Región 4 Arquitectura
The architects of this house have embraced contrasting colours to impart dynamism, without feeling over the top. To keep the dwelling feeling warm, amber lights have been added, and they impart soft warmth, dappled by the louvres.
With a bonus green wall when you walk inside!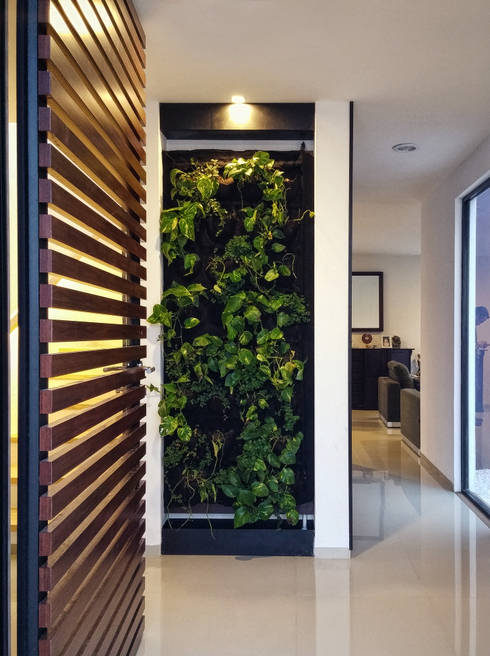 MURO VERDE COMO REMATE VISUAL
Región 4 Arquitectura
3. This small entrance's timber path works beautifully with the warm lighting
4. Here a small porch covers the entrance and really makes a statement
This entrance looks lovely with its attention-grabbing architectural elements. These allow light and air into the space, by also ensure privacy and segregation from the neighbourhood.
5. This entry wall has been clad in stone to provide depth and intrigue to the small entrance and portico
6. The combination of this wooden door with a stone surround adds rustic charm and character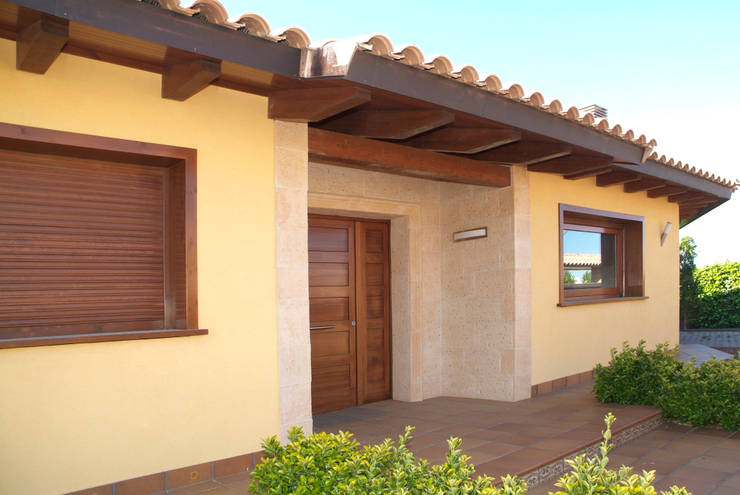 Portal de piedra con puerta de madera
RIBA MASSANELL S.L.
Check it out in more detail. What do you think of the central door handle?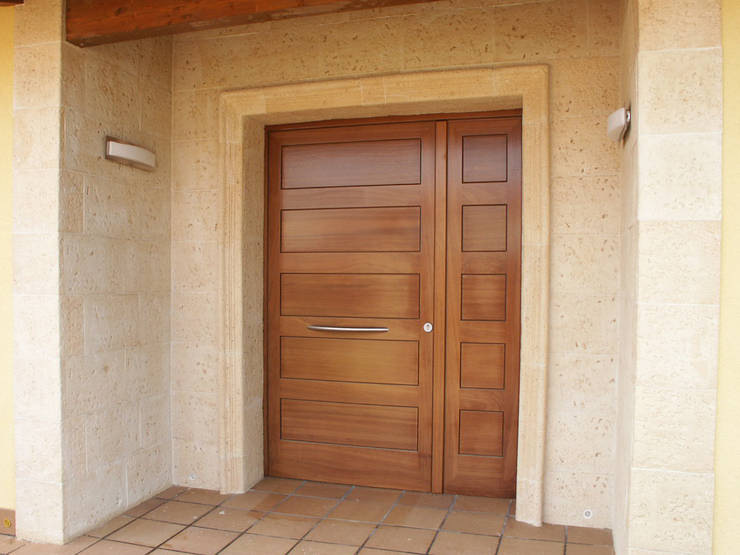 Puerta entrada
RIBA MASSANELL S.L.
7. Minimalism and beauty: this home boasts a statement-making pergola, which is simple yet beautiful
One of our favourite facades, this gorgeous cottage house utilises a crisp white hue to ensure the front porch stands out beautifully. Charming and warm, the metal pergola is asymmetric in shape, adding interest and energy.
8. Wow! Check out this bright yellow door, magenta feature wall and wonderful concrete façade… are you intrigued?
9. Traditional, with a hint of modernity
Although the home isn't particularly interesting, the entrance has been given a lovely makeover. Natural materials work with the brick, while the light yellow adds illumination and cheer.
10. Old is new with this contemporary dwelling that pays attention to the finer details
Want to create something similar for your home? Chat to an architect via the homify website and get started today!
11. Split-level style
12. Playing with bamboo and neutral hues
Although this façade is simply grey, the designers have employed bamboo to add depth and prominence to the entrance. Lit up with an individual spotlight, this wall is a lovely focal point for the house.