It's an undeniable fact that the front of one's home is the most important feature when attempting to make a good first impression or a statement. When it comes to dwelling design, there are good entrances, and then there are bad. A good entrance is neat and tidy and invites in guests or visitors, while a bad entrance is unwelcoming, unattractive, messy and generally unappealing. 
The entrance often gives a good impression of what lies behind the façade; a preamble to the main event inside. Your entrance should be unique, stylish and boost your curb appeal. You can achieve the ultimate entrance using a range of different building materials, strong architectural lines and a considered approach or plan. 
Are you considering a new entrance design for your abode? Or perhaps you are constructing a new abode and are looking for a standout example to emulate or copy? Either way, we've gathered 15 of our favourite modern entrances, which are sure to inspire and encourage you to undertake yours with confidence. Interested and would like to learn more? Come with us and check them out below!
1. Staggered steps boost this home's appearance, while making a statement for the entrance and front door
2. Impress your guests and enhance your home with a timber under-lit bridge that seems to float over water!
3. Private and secure, this horizontal, minimalist perimeter fence is solid and sturdy
4. Giving the impression of a moat, this entrance offers a light timber 'bridge' to hop across to the front door and gain access to the modern home
5. A modern castle-esque appearance is offered to this dwelling, imparting a sense of class and style, while advancing the home's privacy
6. Meander towards this property's entrance via the stepping stone path, while the timber panelled door waits stylishly at the end
If you are planning your new home but seeking some expert advice, we recommend finding a professional via the homify website. We've got a range of architects and designers that are sure to offer interesting ideas, meaning you can get started today!
7. Set away from the street, the entrance to this modern house is located at the top of a narrow illuminated staircase, which works with interesting and lush surrounds
8. This modern timber door feels inviting and impressive. The symmetrical situation of plants is elegant and graceful, imparting refinement and opulence
9. Wow! This entrance is strikingly transparent with clear glazed doors and a window, as well as a dazzling pond, which really sets a lavish scene
10. To add warmth and an inviting ambience this design incorporates a vertical wall of greenery, which looks and feels organic when paired with the timber door
11. This interesting combination of stepping stones lead upwards towards the entrance, which cannot be seen, yet feels rather modern and imposing
12. An interplay between the structure and the sky, this entrance is bunker-esque and truly fabulous!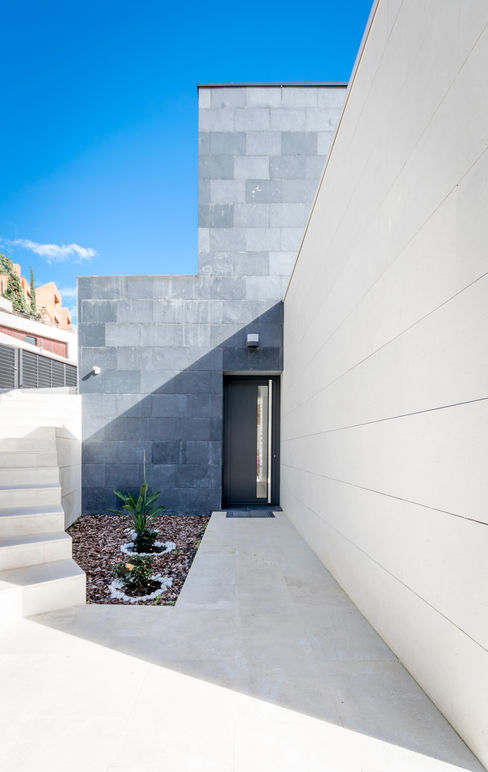 Entry door
08023 Architects
13. Near landscaping leads to a modern (and very large) entrance, this reflects the modern sculptural artworks effortlessly
14. Built-in shelving has been added to this entrance, which has allowed a range of greenery and plants to be added to the area
15. Spice up a simple entrance with some bamboo planted alongside the main building. This softens the white stucco exterior beautifully and adds a lush tropical vibe
Which design or style is your favourite? If you'd like to learn more about designing a home, we recommend checking out: 8 fabulous houses under 75 m²