Do you dream of a luxury dressing room in your home? If the answer is yes, then you're going to love what we have in store for you! Today on homify we're going to take a look at dreamy walk-in closets, robes and dressing rooms. We've collated 15 of our favourites, which prove garment organisation is most certainly something you'll want to achieve.
Featuring stylish interiors, excellent compartments and a host of high-tech accessories, you're going to want to see these dazzling dressing rooms. Deck out your domestic setup with life-changing storage space and watch your daily routine improve, along with a refreshed ambience throughout your home.  
Let's take a closer look below…
1. Our first dream dressing room comes replete with wonderfully convenient shelving and would suit a spare room conversion or a large apartment
2. If you have a spare loft or attic space, why not convert it into a functional and practical walk-in robe?
3. White shelving can assist in creating an open and easily accessible space, with the added benefit of looking fabulous
4. Add a seat within your dressing room, and ensure you have a place to sit, as well as extra storage for your shoes
5. Romantic and sensuous, this is the ideal dressing room and fit for royalty!
6. Mirrors are perfect within a dressing room, offering ample space to check yourself out and ensure you pick a flawless outfit every time
7. Glass doors make a statement of your dressing room, while ensuring the room retains a sense of spaciousness and style
8. Go minimalist with a sophisticate yet compact setup like this one
9. Bespoke fixtures and hardware ensure your space is efficient and organised, which will save you space when you're searching for that favourite sweater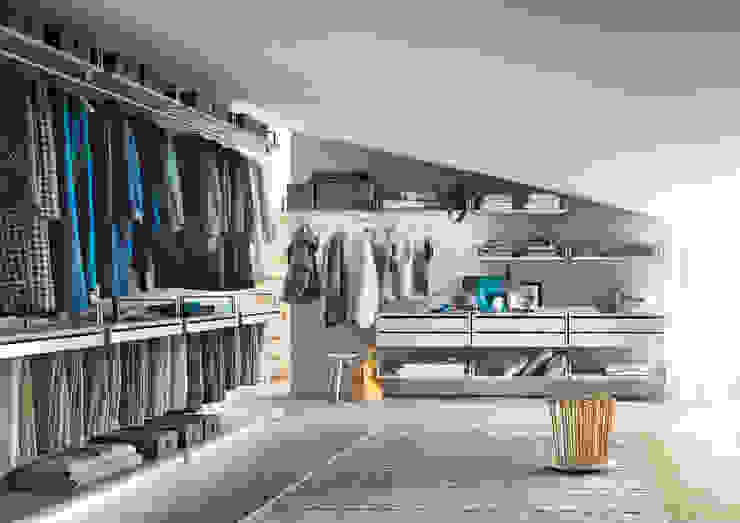 Novenove Walk In Wardrobe by LEMA
Campbell Watson
10. As perfect as a retail store, this well-illuminated setup works brilliantly in keeping your finest items on show
11. Darker timber hues elicit a romantic and sensuous aesthetic – when paired with the tufted ottomans, this room really shines
12. Go eclectic with a patchwork chair, dressing table and plenty of shelving for all of your accessories
13. For a feminine touch, add touches of warm hues, textiles and a comfy place to sit
14. Timeless and elegant, this dressing room ticks all the boxes, looking fantastically neutral and age-defiant
15. How about a dressing room with a view? You could spend all day in this light, well-illuminated space, which is definitely one of our favourites!
Do you have a favourite dressing room? If you'd like to check out some more, we think you'll enjoy: 9 budget-friendly steps to a luxury bedroom