Your outdoor terrace is a great space to make the most of a little fresh air. When you live in a large city, an exterior balcony or patio is sometimes the best way to feel healthier, poised up above the streets below, taking in the impressive scenery. Today we're going to introduce you to 12 fantastic terraces that utilise greenery and decorations to produce a usable and highly liveable space.
Unique, eye-catching and striking, these examples all share one thing in common: they will all allow you to have a great time! Cosy, welcoming and luxurious, this is exactly where great memories are made. Let's take a look at the 12 fabulous designs by our experts below!
1. Our first terrace is a real stunner! Replete with timber decking, wooden furniture and walls of potted plants, we know you're going to swoon over this perfect entertaining and relaxing space.
2. This space screams style and relaxation with its cosy furniture and wall of rugged greenery.
3. For the ultimate in relaxation, this has got to be your favourite! Tranquil, serene and idyllic, this outdoor space is simply paradise.
4. Our next terrace is ideal for the entertainer in your life. Boasting a large table and plenty of seating, it is adorned with comfy cushions and bright tableware for your next Sunday lunch or party.
5. Romantic curtains hung from a tranquil awning signal some serious style. Add a large rattan seat and the hardest thing about this terrace will be trying to leave!
6. Simplicity is timeless and often beautiful. Working with the picturesque scenery, this designer opted for two white chairs that allow occupants to enjoy the view.
7. To protect from the harsh daytime sun, this terrace employed a lattice-like awning that is modern and eye-catching.
8. Timber, timber everywhere! This next example embraces wood finishes and opts for simple loungers to relax and unwind.
9. You'll be the envy of all of your friends if you have your very own plunge pool!
10. Everything about this terrace says perfect island holiday. White furniture, indoor plants, sheer curtains, and let's not forget: the drinks' trolley!
11. A simple timber awning painted white offers wonderful contrast against the bright blue Mediterranean sky.
12. Colourful, creative and attention-grabbing—our last example ticks all the boxes and offers occupants a private place to rest, socialise or live in style and comfort.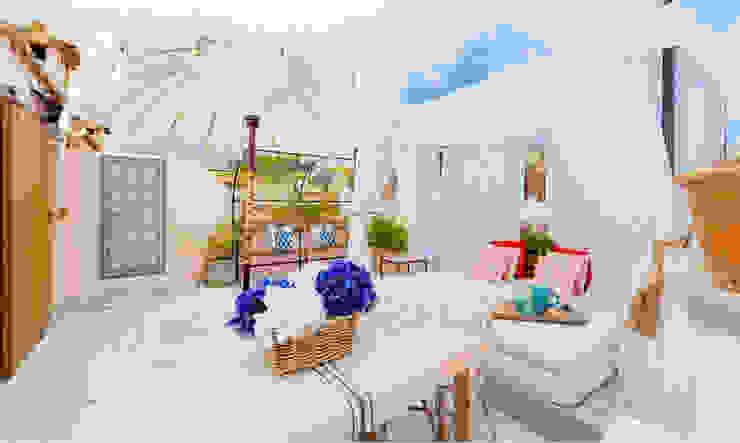 Proyecto
Bondian Living
Are you interested in a little extended reading? If so, we recommend: Decorating small houses: 10 tricks you need to know